With Florida ranking as the fifth state for employing cabinetmakers, people can select one of the many manufacturers to make the cabinets they need. Ordering custom-made or semi-custom-made cabinets is an option in any dimension. 
However, if you choose stock cabinets for your new kitchen, you'll have to select the standard dimensions the manufacturer offers. 
Many people have no idea where to start when it's time to select cabinets for their kitchen. Kitchen cabinets in Brandon, FL, come in a versatile range of sizes, but to avoid creating a dysfunctional kitchen, here is what you need to consider. 
Kitchen Base Cabinets
Base cabinets are the backbone of every kitchen. They do all the "heavy lifting" in the kitchen and are more expensive than wall cabinets. Since they dictate the whole kitchen design, you must consider incorporating the kitchen appliances into the base cabinets (think colors and functionality).
Height of Base Cabinets
The height that is considered standard for base cabinets is 34 1/2 inches. Once you add the countertop, they reach a height between 35 and 36 inches, depending on the used material. 
These are standard measurements used by consumers who don't require height adjustments. But we must consider that a kitchen height requires adjustments to fit the user's needs. For example, disabled individuals who use a wheelchair will need tailored adjustments.
Depth of Base Cabinets
Ready-made standard cabinets are 24 inches deep, not including the countertop overhang. This depth is mainly selected for practical reasons because anything above will make it difficult to reach for items inside the cabinet. Some manufacturers may also carry cabinets 12, 15, and 18-inches deep, but they are a rare find. 
Base Cabinet Width
The width of the base cabinet is the most flexible option. They vary between 9 and 48 inches for space-saving reasons. At the same time, the width of the cabinet will depend on the type of sink you'll use, what you plan to store in them, or how much workable countertop space you'll need.
Kitchen Wall Cabinets
On the other hand, wall cabinets are typically used for storing lighter items and depend on the ceiling height. Some consider wall cabinets the focal point of the kitchen because they're the first thing you notice when you walk in.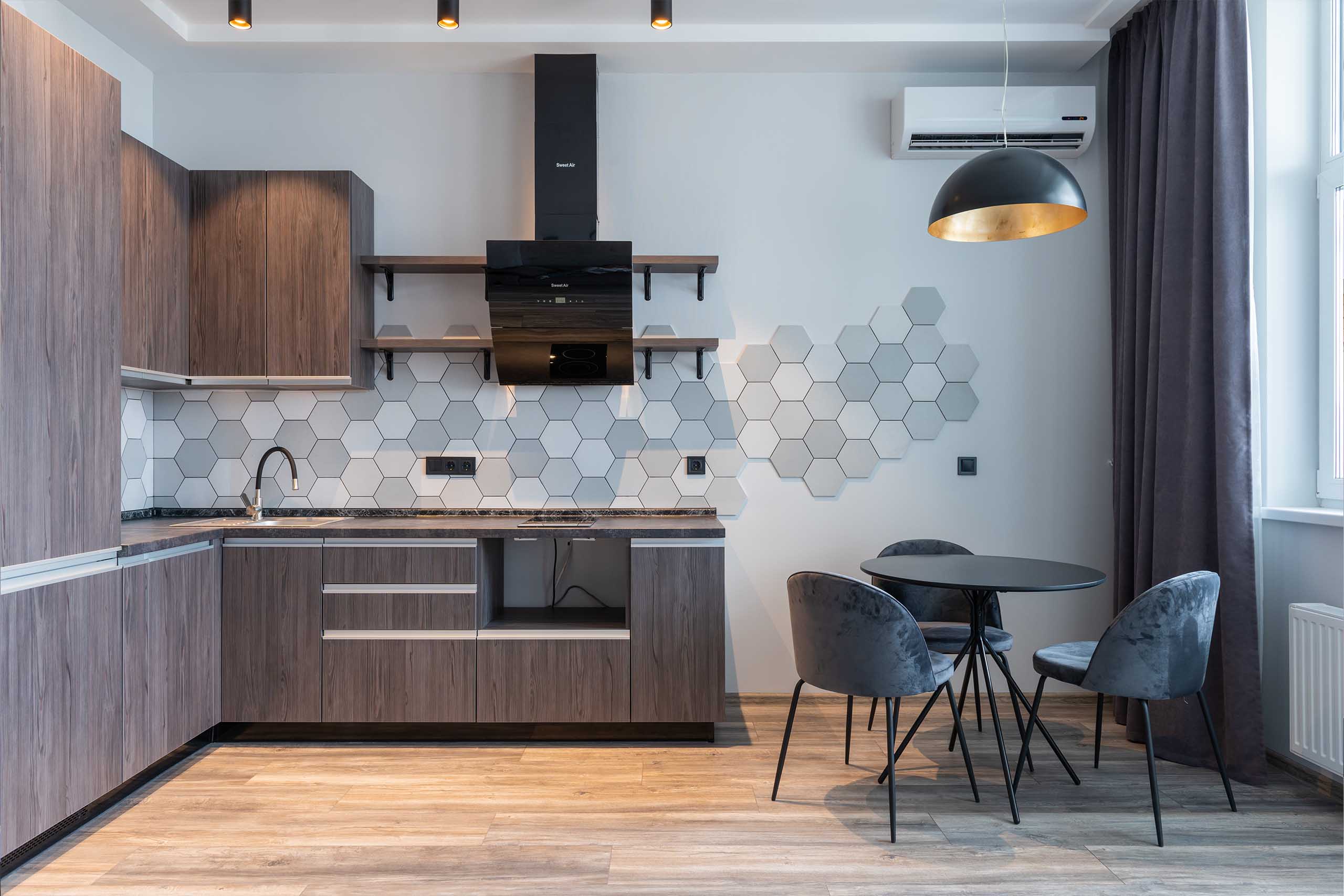 Height of Wall Cabinets
Standard wall cabinet heights are around 30 or 36 inches. In general, wall cabinet heights can range between 12 inches above the fridge and 48 inches to the ceiling. 
Depth of Wall Cabinets
Manufacturers most frequently design wall cabinets to be around 12 inches deep. This is because the countertops serve as a place to store items but also due to safety reasons.
This depth is not definite, and you can order deeper cabinets, but only up to 24 inches. The wall cabinets cannot run deeper than the base cabinet. 
Width of Wall Cabinets
As with the base cabinets, the width of wall cabinets ranges between 9 and 48-inches, with 30-inches being the most common width. This can change to fit the user's storage needs. 
Where to Order High-Quality and Right-Sized Kitchen Cabinets 
Tam Bay Construction offers to give your kitchen a modern and contemporary look. We listen to your ideas, create the design and give you the kitchen makeover you've always imagined. 
Homeowners trust us with kitchen remodeling and cabinet installation. But that's not all we do. 
Call us to discover everything we can do to make your dream home a reality.